السَّلاَمُ عَلَيْكُمْ وَرَحْمَةُ اللهِ وَبَرَكَاتُهُ
It's Thursday 8th July 2021.
My chosen topic today is 'The First Ten Days of Ẓūl Ḥijjah'.
Tomorrow (Friday 9th July) is the 29th of Ẓūl Qā'dah. The month of Ẓūl Ḥijjah will start from either Saturday 10th or Sunday 11th. The first 10 days of Ẓūl Ḥijjah are very blessed and have a lot of virtues.
Similar to the days of Ramaḍān, we must value these 10 days as well. Unfortunately, we do not give these 10 days so much importance. This should not be the case. If you need to have a haircut, then try your utmost best to have it cut before Maghrib tomorrow (Friday). Cut your nails as well. These are 2 actions which are Makrūh (undesirable) during the first 10 days of Ẓūl Ḥijjah.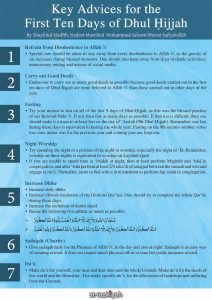 Fasting during the first 9 days of Ẓūl Ḥijjah is also very rewarding. In a nutshell, make the most of these blessed days. Little do we know if we will live to see them next year. Finally, if Qurbāni is Wajib on you, please make the necessary arrangements in good time.
We,at the MWI, can perform your Qurbāni. Please see our poster below.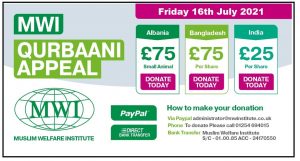 May The Almighty grant us all the ability to make the most of these blessed days and may He, through His Infinite Grace and Mercy, accept all our Qurbānis, Āmeen.
جَزَاكَ اللَّهُ خَيْرًا
Request for Du'ās
وَالسَّلَامُ Hanif Dudhwala
Supplementary Resources
Significance of the First Ten Days of Dhul-Hijjah – Ḥaḍrat Mawlānā Muḥammad Saleem Dhorāt Ḥafizahullāh
Udhiyah – Qurbānī– Ḥaḍrat Mawlānā Muḥammad Saleem Dhorāt Ḥafizahullāh
'Īdul-Adhā– Ḥaḍrat Mawlānā Muḥammad Saleem Dhorāt Ḥafizahullāh
How to Spend the Ten Days of Dhul Hijjah (English Lecture) – Ḥaḍrat Mawlānā Muḥammad Saleem Dhorāt Ḥafizahullāh
The Month of Dhul Hijjah and the Hajj of Rasulullah SAW (2nd Edition) – Shaykh Ebrahim Noor