السَّلاَمُ عَلَيْكُمْ وَرَحْمَةُ اللهِ وَبَرَكَاتُهُ
It's Wednesday 2nd June 2021.
My focus today is on the 'Palestine Funeral Procession'.
During the month of May, over 60 children were mercilessly martyred by the Israeli army in Palestine, attacking from the air using fighter jets and Apache helicopters. These weapons of mass destruction are made with components manufactured in the UK.
One of the sites involved in this genocide, is the BAE Systems plant in Samlesbury, on the A59 Clitheroe to Preston route. This coming Friday, 4th June, the Lancashire Peace Forum (LPF) have arranged a 'Palestine Funeral Procession' outside the main entrance of BAE. 67 small replica coffins will be placed at the main gates, to show the world the oppression and genocide that BAE Systems have taken part in and are still profiting from.
I want to make a humble request to you, your family, friends, and colleagues, to please spare 2 hours of your time for these innocent beautiful children. The procession will take place outside BAE Systems from 2:30pm to 4pm.
We have also made arrangements for 4 double decker buses, leaving from the 4 main areas of Blackburn at 2:15pm on Friday, and returning from BAE at 4:30pm, اِنْ شَاءَ الَّلهُ.
All the information is on the following posters.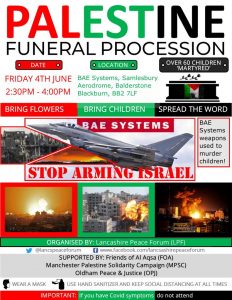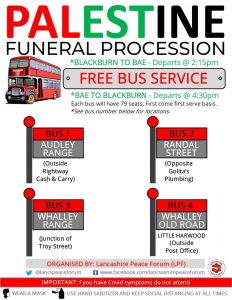 Please make sure you are there in loving memory of our Palestinian children.
Almighty Allāh liberate Masjid al-'Aqṣā and protect all the Muslims from oppression throughout the world, Āmeen.
جَزَاكَ اللَّهُ خَيْرًا
Request for Du'ās
وَالسَّلَامُ Hanif Dudhwala