السَّلاَمُ عَلَيْكُمْ وَرَحْمَةُ اللهِ وَبَرَكَاتُهُ
It's Friday 1st July 2022 / 2nd Ẓūl Ḥijjah 1443H.
Clitheroe Masjid Fundraiser
Clitheroe is a beautiful little town situated in the Ribble Valley. A small Muslim community has been residing here since 50 years. Permission was granted for the first Mosque, which opened in 2012.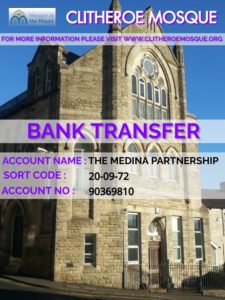 Today, this Masjid serves the Muslims living in Clitheroe as well as Langho, Sabden, Whalley and Gisburn. The Masjid is open for 5 times daily Ṣalāh. Twenty children attend the Madrasah. The annual running cost is £50,000. The local families make huge contributions to their local Masjid. However, there is a shortfall of £25,000 every year.
To help raise funds to cover some of this shortfall, our Ribble Valley sisters have arranged a very special fundraiser tomorrow (Saturday 2nd July) at Bangor Community Centre in Blackburn from 1pm to 5pm. There will be a number of stalls selling a variety of items.
The centrepiece will be a number of food stalls where food made at home by the local sisters will be sold. They are making so much effort and bringing an array of delicious dishes to sell to raise funds for their Masjid. 100% of the proceeds of the food stalls will be going to the Masjid.
The purpose of this message today is to request each and every sister of Blackburn and the surrounding areas to make sure they come to the fundraiser and help to raise as much money as possible, please. Cash and cheque donations can also be made on the day to the responsible sisters.
Please let this message go to each and every contact of yours so that we have a good turnout and we reach our target, اِنْ شَاءَ الَّلهُ. For those who would like to donate directly to the Masjid, account details are provided in the poster below.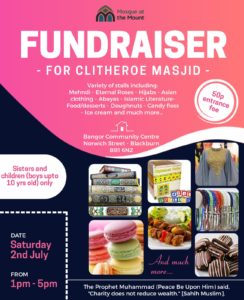 May The Almighty make the Fundraiser a complete success and accept all our donations for the running of His House in Clitheroe, Āmeen.
Please share widely.
جَزَاكَ اللَّهُ خَيْرًا
Request for Du'ās
وَالسَّلَامُ Hanif Dudhwala (Clitheroe Masjid Management)