Continued from Part 7
Maqām Shu'ayb, عَلَيْهِ ٱلسَّلَامُ, Aṣḥāb al-Kahf, Mūtā and the Shuhadā', Ḥaḍrat Yūsha', عَلَيْهِ ٱلسَّلَامُ
We decided to visit Maqām Shu'ayb, عَلَيْهِ ٱلسَّلَامُ, as it was en route. The Masjid here is set within some beautiful valleys.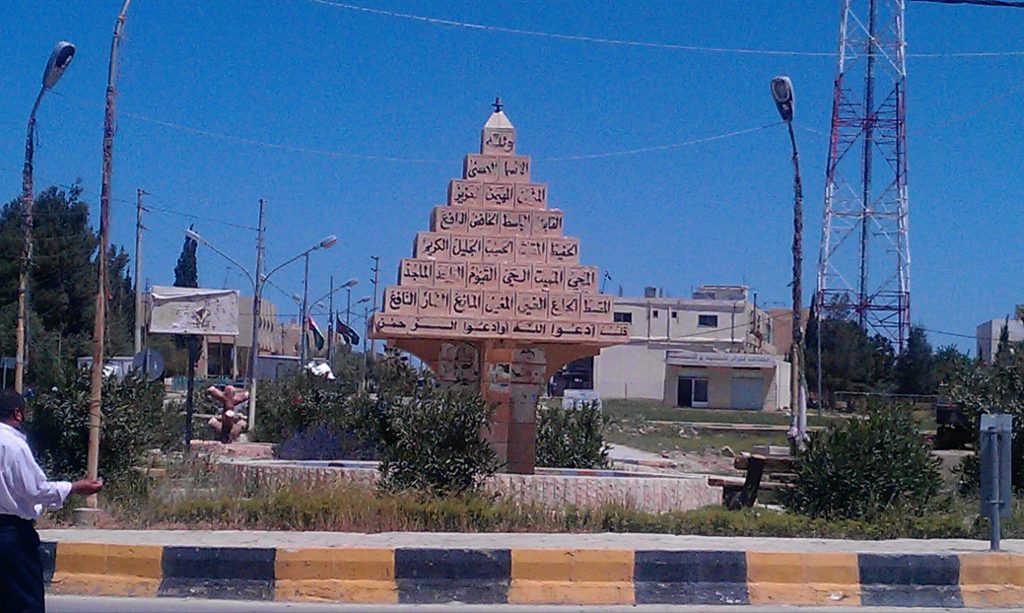 From here we went to the Sadeen Hotel, a very good 4 star accommodation. After freshening up we moved on to the Cave of the Seven Sleepers (Aṣḥāb al-Kahf).
A very small door leads one into this cave, inside which are seven tombs. The actual location of the Aṣḥāb al-Kahf is not known exactly. but the authenticity of it being in Jordan is quite strong. Some old bones can be viewed through a glass panel.
It was late afternoon, everyone was hungry and tired, so we went into a restaurant where we enjoyed chicken shāwarmā & chips for just £27, for the 11 of us, then headed back to the Hotel and rested for some 3 hours. We then went out for a stroll, prayed our 'Ishā in a nearby local Masjid and went looking for a restaurant, where we had shāwarmā sandwiches. Then it was time for sleep.
The next day was Monday 7th May and this day will be well remembered and cherished by all of us. Although everything is an anti-climax after you leave Masjid al-'Aqṣa, this day was special. We left bright and early at 8am, heading for Mūta, the famous area where the battle of Mūta took place. It was a few hours drive and we stopped on the way for some snacks and refreshments. Our driver Muḥammad Shuraim was very jolly and always full of smiles and laughter, which made the journey even more enjoyable.
We arrived at Mūta and were blessed with the opportunity to pay our respects and convey our Ṣalāms to 3 very prominent Saḥābah, Ḥaḍrat Jā'far ibn Abī Ṭālib, رَضِيَ ٱللَّٰهُ عَنْهُ, Ḥaḍrat Zayd ibn Hāritha, رَضِيَ ٱللَّٰهُ عَنْهُ, and Ḥaḍrat 'Abdullah ibn Rawāḥah, رَضِيَ ٱللَّٰهُ عَنْهُ.
It was very emotional, especially as we had Mufti Taqī Usmāni's Jahān-e-Dīdah with us. Before presenting ourselves at the resting places of these illustrious Companions, رَضِيَ ٱللَّٰهُ عَنْهُم, we collectively studied their lives and the sacrifices they had given to safeguard Islām.
We also visited the nearby cemetery, where it is believed that many hundreds of Ṣaḥābah, رَضِيَ ٱللَّٰهُ عَنْهُم, are resting. Mufti Taqī Ṣāḥib has written extensively on the Shuhadā' of Mūta, in Jahān-e-Dīdah, a real must read for all Muslims.
We then headed towards the resting places of a number of other Ṣaḥābah, رَضِيَ ٱللَّٰهُ عَنْهُم. Ḥaḍrat Mu'āz ibn Jabal, رَضِيَ ٱللَّٰهُ عَنْهُ, Ḥaḍrat 'Abdur Raḥmān ibn Mu'āz ibn Jabal, رَضِيَ ٱللَّٰهُ عَنْهُما, Ḥaḍrat Abū 'Ubaidah ibn Jarrāh, رَضِيَ ٱللَّٰهُ عَنْهُ, Ḥaḍrat Sa'ad ibn Abī Waqqās, رَضِيَ ٱللَّٰهُ عَنْهُ, Ḥaḍrat Āmir ibn Abī Waqqas, رَضِيَ ٱللَّٰهُ عَنْهُ, Ḥaḍrat Dirār ibn Azwar, رَضِيَ ٱللَّٰهُ عَنْهُ, Ḥaḍrat Sharhābīl ibn Ḥasanah, رَضِيَ ٱللَّٰهُ عَنْهُ, it was such a spiritual experience.
Tomb after tomb of such exalted personalities, Mufti Taqī Ṣāḥib has written detailed accounts on all of these Companions, رَضِيَ ٱللَّٰهُ عَنْهُم, and we collectively studied each & every one before presenting ourselves at their resting places.
Passing by the Dead Sea on the Jordan side (near the city called as-Salt), we saw the rock which is believed by Christians to be the wife of Ḥaḍrat Lūt, عَلَيْهِ ٱلسَّلَامُ. She was punished by Almighty Allāh but the Holy Qur'an doesn't specify the 'pillar of salt'; only Allāh, سُبْحَانَهُ وَتَعَالَىٰ, knows best.
It was getting late and we still had one more desire, the tomb of Ḥaḍrat Yūsha', عَلَيْهِ ٱلسَّلَامُ. We made it here just after 'Ishā and had the opportunity to present our Ṣalāms to this great Prophet, عَلَيْهِ ٱلسَّلَامُ. It had been a remarkable day which ended with a very expensive barbeque at 11:30pm, totalling £170 for 11 of us!
The next morning, Tuesday 8th May, we left after breakfast and after saying our farewells to Muḥammad Shuraim & Khālid, we did a little bit of shopping at the airport and took the 11am flight to Dubai. After arriving in Dubai at 3pm, we spent the afternoon and evening shopping in Deira, finishing the visit with a meal at the famous Delhi Darbār restaurant.
We were back at the airport at midnight, in plenty of time to catch the 3am flight to Manchester, which landed at 8am. Hāji Bashīr arrived at 8:45am, and by 10:30am, we had all reached home safe & sound. This visit to al-Quds and Jordan will always be ranked with the best of my journeys and the memories of this journey will be cherished forever.