السَّلاَمُ عَلَيْكُمْ وَرَحْمَةُ اللهِ وَبَرَكَاتُهُ
It's Wednesday 28th October 2020.
Let's talk about the 'Best of Walīmahs' today. Zāhid and 'Ābida of Bolton had set their wedding day for Saturday 24th October. Obviously they were looking forward to one of the happiest days of their lives.
Due to the lockdown restrictions, the Nikāh ceremony had to be conducted with a small number of guests, but the Walīmah more than made up for it, اَلْحَمْدُلِلّه. One of the best intentions they both made once they were engaged, which was to feed families thousands of miles away, was fulfilled on the day of their Nikāh. What a beautiful gesture from Zāhid and 'Ābida.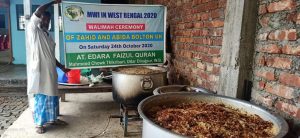 It was Saturday 24th October when 100 guests got together in the Uttar Dinajpur district of West Bengal, India, to participate in a beautiful Walīmah Dā'wat financed by Zāhid and 'Ābida, and supervised by the Muslim Welfare Institute (Blackburn, UK). It was a wonderful atmosphere.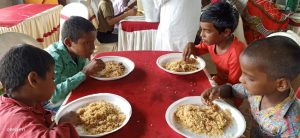 The majority of the guests were widows and orphans and included a number of 'Ulamā and religious personalities. The Principal of the local Madrasah, Moulana Mumtāz Ṣāḥib, had made arrangements for sweet rice and biryāni. There were plenty of Du'ās that day for Zāhid and 'Ābida and their families.
The purpose of this message of mine today is not to publicise this newly wedded couple, or fame. In fact, they did not want this mentioning at all. However, with the intention of encouraging other couples to follow suit and, in doing so, benefit people in such remote areas as Uttar Dinajpur in West Bengal, they both kindly allowed me to share this very noble act of theirs.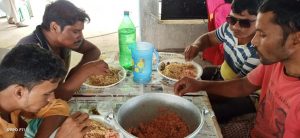 As weddings have started to pick again in the UK, a humble request to each and every bride and groom to follow in the footsteps of Zāhid and 'Ābida and take the opportunity to have a Walīmah done in your names in West Bengal. Feeding 100 guests will cost only £250, less than the price of the car the groom hires for 24 hours.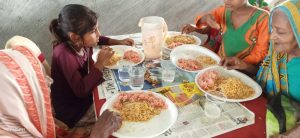 Almighty Allah bless the marriage of Zāhid and 'Ābida, and keep them happy and smiling for the days, weeks, months, and years to come, Āmeen.
Please share with couples whom you know are tying the knot.
جَزَاكَ اللَّهُ خَيْرًا
Request for Du'ās
وَالسَّلَامُ Hanif Dudhwala
(CEO, Muslim Welfare Institute, Blackburn, UK)